Ways a motorcycle will save money: an illustration
It seems that everyone who drives a car is aware of the costs associated with driving. However, when compared to what the average person would spend on travel, motorcycles save so much more money. We have to wonder if car drivers are really aware of how beneficial the switch could be for them in terms of their potential savings.
Do motorcycles save money? When compared to cars, the answer is yes. There are many benefits to riding a motorcycle instead of a car. With a motorcycle, you can save money on gas, insurance, maintenance, and many more costs that can ring up quite a bill with cars. To help illustrate the savings that can be made with a motorcycle, here is a handy infographic. How have you saved money since you ride a motorcycle? Leave a comment and weigh in!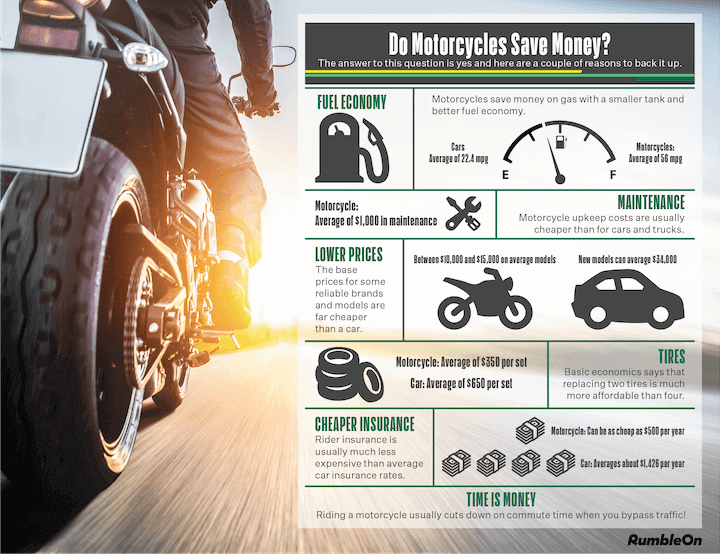 Now that you're convinced to move from four wheels to two, here are some resources on How to Buy a Motorcycle that can get you on the road in no time at all!
---
Ready to ride? RumbleOn is the best place to buy motorcycles online.
You may be new to riding, but you're no rookie when it comes to online shopping. Where else can you buy a cheap used motorcycle online and have it shipped for free? RumbleOn has the largest online inventory of used motorcycles for sale online, and every RumbleOn Certified used vehicle comes with free shipping and a three day money back and Rideability Guarantee! Shop for used motorcycles and find a great first ride to hit the road in style!
Trade or s
ell a motorcycle for cash the easy way.
Sell for cash to a ready buyer, RumbleOn will buy your bike on the spot! Just submit your motorcycle for a free, no obligation Cash Offer by entering its details and uploading a few photos. RumbleOn will give you a guaranteed Cash Offer to buy it or use the value as a trade-in. RumbleOn accepts trade-ins of all kinds, and we will even handle all the transaction paperwork for free!
The best part? We'll come to pick up your vehicle free of charge, all you have to do is sit back and get paid. You can also get your cash as soon as the same day we receive your paperwork! Don't sell a motorcycle the old-fashioned way, give RumbleOn a try!