A History of Meade County, South Dakota through Photos
Nestled in the Black Hills of South Dakota, the city of Sturgis in Meade County seems to be nothing more than a small town with a population not much higher than 6,000. But for one week every summer the small town's lodging, campgrounds, and hotels are booked solid with motorcycle enthusiasts and riders. Before Sturgis was home to the famous motorcycle rally, it was a small mining town often referred to as "Scoop Town." Sturgis, South Dakota was founded in 1878 to help house soldiers from the nearby Fort Meade and miners from the gold rush.
This photo slideshow shows the humble beginnings of the world famous home to the Sturgis® Motorcycle Rally™: Sturgis, Meade County, South Dakota. With photos like these, you can really get a glimpse at the development it underwent to become the wild success that we know and love today. I dug into the archives to showcase some history of Sturgis, Deadwood, and the surrounding area in Meade County. Thanks to BiblioBoard, Google Street View and What Was There, these transition photos show Meade County evolving to present day. Leave a comment and let us know what you think and don't forget to share so others can see too!
Use the arrows to scroll through this historic photo collection, and let us know of other historical areas that you'd like to see some comparisons of then-and-now!
NOTE: If viewing the gallery on mobile, tap the blue full-screen icon for the best experience.
...
The origin of the "Scoop Town" Stugis nickname differs depending on who you ask, but the most common stories are that the early entrepreneurs who would set up shop with brothels and saloons "scooped up" the money of the miners and soldiers. It's also been said that the area was so profitable that the entrepreneurs literally had to "scoop up" all the money they were making. However, very few people refer to it as "Scoop Town" anymore. The miners gave way to bikers and the town has since been marketed as the "City of Riders."
Present day Sturgis has built an economy and identity around the annual rally thanks to the thousands of people who attend. It is home to the Sturgis Motorcycle Museum and Hall of Fame, and there is even a Rally Department formed by the City of Sturgis to help with the big event each year.
---
The Timeline of

Sturgis® Motorcycle Rally™
1938: The first Sturgis® Motorcycle Rally™ went by a different name entirely, it was the Black Hills Motor Classic. It took place August 14, 1938 and was hosted by the Jackpine Gypsies Motorcycle Club and Clarence "Pappy" Hoel. The first race was only nine men in front of small crowd of onlookers. The prize money was a total of $500.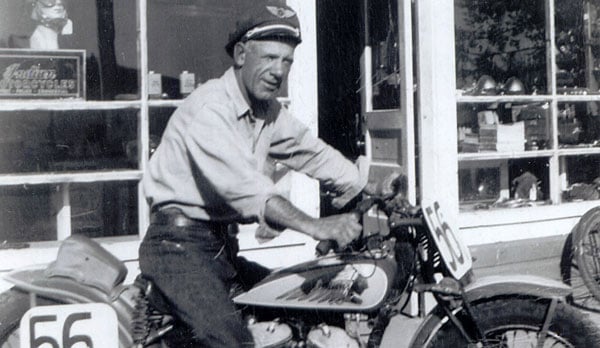 Source: National Motorcycle Museum
1944: The Black Hills Motor Classic took a 2-year hiatus in 1942 and 1943 due to gas rationing during the war. The Rally started back in 1944 and has continued since, becoming one of the largest motorcycle rallies in the world.
1949: In 1949 Main Street in Sturgis was closed for the first time in the 11-year history of the rally. It was closed for a two-hour award ceremony.
1961: The famous motorcycle hill climbs and Motocross races were introduced in 1961. The Gypsy Tour was also started, led by the Jackpine Gypsies. This is a two-day motorcycle ride with an overnight stay in Custer.
1965: In 1965 the rally moved from a 3-day event to a 5-day event and changed again in 1975 to make it 7 days.
1974: 1974 welcomed the addition of vendors at the Sturgis Auditorium. In 1979 Sturgis started licensing temporary vendors and by 1988, 177 vendors were licensed.
1986: The official rally logo was donated by local man, Tom Monohan, in 1986.
1989: Founder Pappy Hoel passes away at the age of 85.
1991: The official name changes from Black Hills Motor Classic to Sturgis Rally and Races happened in 1991.
2002: The City of Sturgis formed a Rally Department in 2002 to handle all the promotions and organization for the rally.
2015: In 2015 for the 75th annual event a record-breaking attendance was recorded. More than 750,000 participants throughout the entire 10-day period.
---
Need the best place to sell a motorcycle?
RumbleOn is THE easiest and best place to sell a motorcycle online for free. Better yet, you're able to sell motorcycle for cash on the spot. It's all online, all fast, and all free! Get a cash offer for your bike, and we'll come pick up and ship your motorcycle at no cost to you!
Buy or trade a motorcycle online and get it shipped for free with RumbleOn!
If you are ready for a newer, hotter motorcycle to take to Sturgis, or want to shop our inventory of used motorcycles for sale online, RumbleOn has you covered with bikes at great prices. All bikes are shipped for FREE and come with a Money Back Guarantee! Better yet, RumbleOn welcomes trades! Start with a free cash offer for your bike online and use it as a trade-in! You can even trade in a car to buy your first bike! Read more about how to trade a motorcycle online with RumbleOn here.