How to Get a Motorcycle License: DMV Edition
When you set out to find ways to get a motorcycle license, you are likely going to hear two methods. One being the MSF Basic RiderCourse which offers on-cycle and classroom instruction from seasoned Rider Coaches, and the other process is to go about it the old-fashioned way at your local Department of Motor Vehicles.
We're all about the motorcycle lifestyle. So, in celebration of the New Year, we are encouraging potential new motorcycle riders to follow their curiosity and get a motorcycle license. To help make the process a little less daunting, we make it a mission to provide beginner motorcycle rider tips and advice right here on the Brain Bucket Blog!

Check out this infographic that talks about some of the steps it takes to get a motorcycle license through the DMV. While some states have different laws from others, the steps needed to get a motorcycle license are to earn a learner's permit, practice your skills on a motorcycle, pass an exam, and pay a fee. Be sure to do your research on the requirements set in place by your state, and give your local DMV a call if you have any questions or need more information!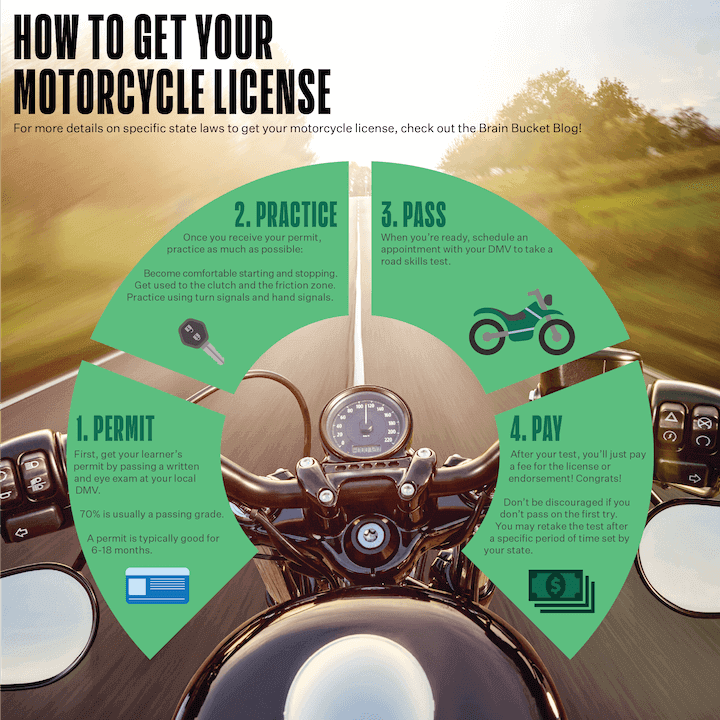 ---
Make a trade online, and get a motorcycle shipped for free!
Need to buy a beginner motorcycle before you get your practice in? RumbleOn is the easiest place to complete an online trade for a motorcycle, and it all starts with your free Cash Offer and motorcycle trade in value! We have a huge inventory of used motorcycles for sale online, and all motorcycles and powersports are shipped for FREE to your door, come with a Money Back Guarantee, and a Rideability Guarantee!
If you trade in a motorcycle, automobile, or other powersport vehicle, we'll even come pick up your old ride and ship your new one at no cost to you! As always, you get paid before we come pick up the vehicle, and you can get your cash directly deposited to your account as soon as we receive your paperwork. Just submit your old ride for a free Cash Offer, then check out our inventory of Certified used motorcycles for sale. It doesn't get much easier, does it?