Features and Specs of the Kawasaki Ninja 300
The world of loud and fast sportbikes can be overwhelming. There are plenty of brands, makes, and models to choose from so it's hard to know which one is going to fit your riding style and preferences. There is, however, one entry-level sportbike in particular that keeps our heads turning even from its first production in 2013. The Kawasaki Ninja 300. The engine and twin turbos of the Kawa 300 provide the power we craved from the Ninja 250 and helped give the 300 the push in the right direction.
There are plenty of reasons why this bike is a good first motorcycle for beginners and seasoned riders alike. It has improved handling, lightweight body, and decent gas mileage. What isn't to love? They also are on the cheaper side of the motorcycle buying world, and who doesn't love getting some of that Kawasaki green for much less than an arm and a leg? This makes it easy to for someone to buy a used Kawasaki Ninja for an affordable, non-bank breaking price.
But don't let me talk your ear off about all of the great things about this bike—check out the infographic instead. It has all of the features you need to know about the Ninja before buying.
Leave a comment down below and let us know how you feel about the Kawasaki Ninja 300!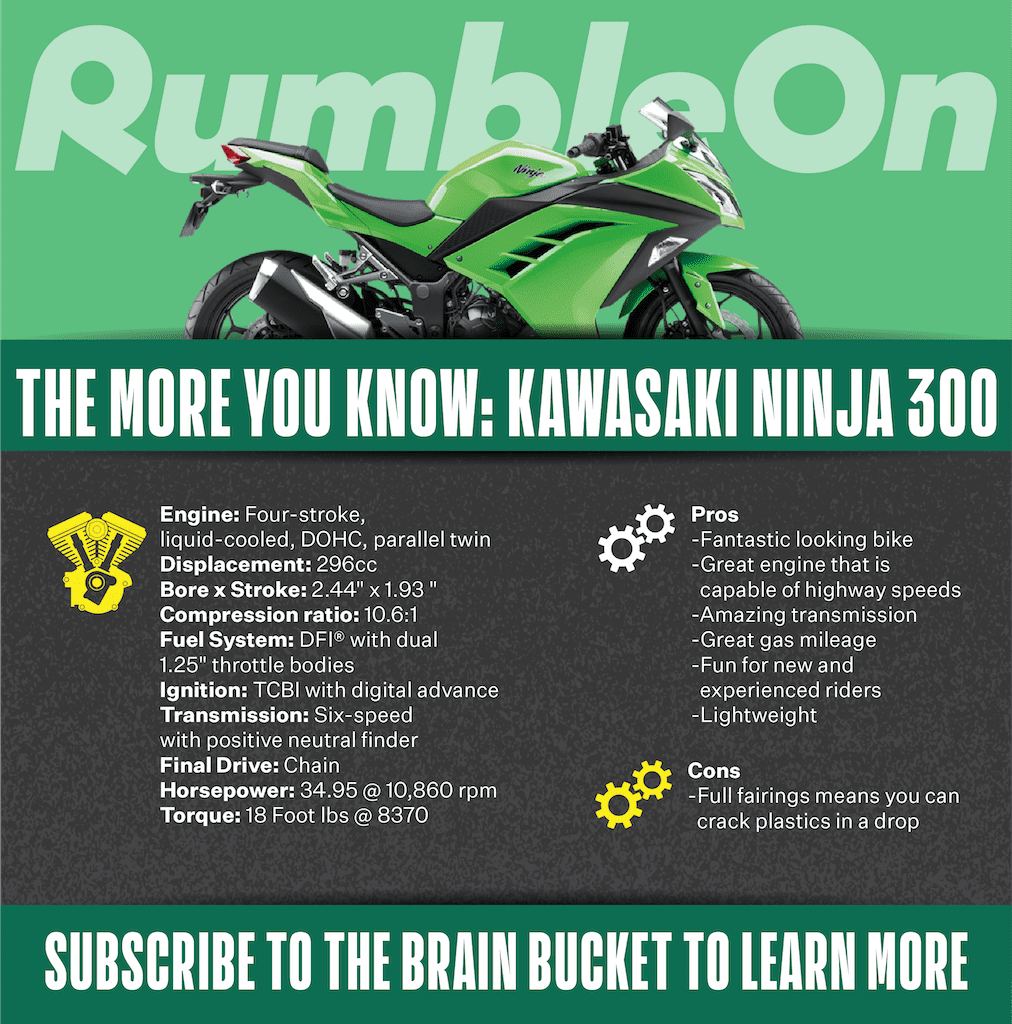 ---
Need the best place to sell a motorcycle?
RumbleOn is THE easiest and best place to sell a motorcycle online for free. Better yet, you're able to sell motorcycle for cash on the spot. It's all online, all fast, and all free! Get a cash offer for your bike, and we'll come pick up and ship your motorcycle at no cost to you!
Trade or buy a motorcycle online, and have it shipped for free!
RumbleOn welcomes trades of all kinds, but we also have a full inventory of Certified RumbleOn powersports and motorcycles for sale at great prices. All RumbleOn motorcycles and powersports for sale are shipped for FREE to your door, as-promised or your money back, and with a 90-Day Rideability Guarantee! Read more about online motorcycle trades here, or browse our low-priced inventory.