A Look at the Harley-Davidson WLA Motorcycle
What sounds more American than a bike dubbed "The Liberator?" I will answer for you. Nothing, that's what. Harley-Davidson's WLA was used by the United States Army during the second World War, and just 88,000 were produced before peace was declared. But "The Liberator" wasn't the only nickname it was known by, and soon people would be known to call it "the bike that won the war." Motorcycles were commonly used in the war by couriers, police, escort work, and some scouting. In other words, motorcycles were a huge component to the success of the war, and that can continue to be seen today. Motorcycles are associated with freedom for a multitude of reasons, and it isn't just because of the freedom of the wind in your hair. These military motorcycles play a massive part in U.S. history.
Here's an infographic that sums up specs and other interesting facts about these beautiful machines and their builds so it is all in one convenient place for ya.
Don't forget to comment below and let us know what you think. But more importantly, check out the other articles we have written about the WLA and bikes like it at the Brain Bucket.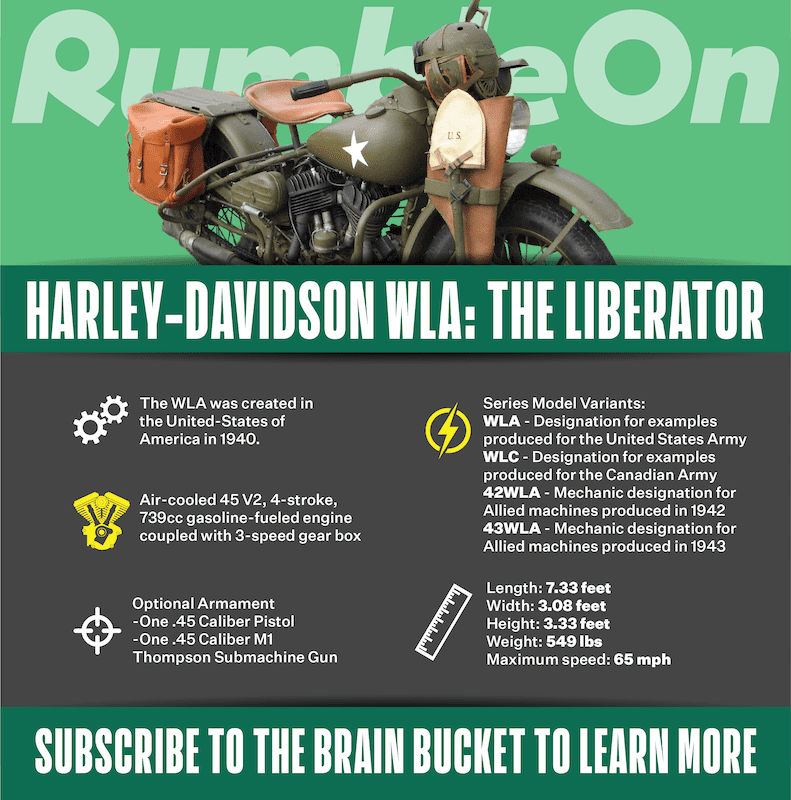 ---
Cheap motorcycles for sale with free shipping, what could be better?
The prices offered in RumbleOn's inventory are always low. In fact, it's hard to find cheap motorcycles for sale that can compete with RumbleOn's prices. Shipping is not another cost you need to factor into your budget, either. RumbleOn always covers motorcycle shipping for free, and all motorcycles for sale online come with a 90-day rideability guarantee. Want even more assurance? Enjoy a three-day money back guarantee, and you'll be able to buy a motorcycle online, sight unseen, with confidence.

Trade or sell a motorcycle online with RumbleOn!
While most classic military motorcycles belong in museums, we can get you some classic Harley Davidson models and other two-wheeled beauties that are worthy of an exhibit. If you are ready for a newer, hotter motorcycle, or want to shop our inventory of used motorcycles for sale online, RumbleOn has you covered with bikes at great prices. All bikes are shipped for FREE, come with a Money Back Guarantee and Rideability Guarantee! Better yet, RumbleOn welcomes trades! Start with a free cash offer for your vehicle online and use it as a trade-in. Read more about how to trade a motorcycle online with RumbleOn here.