Customer receives cash prize in addition to RumbleOn quick cash offer
CHARLOTTE, N.C. — October 8, 2018 — RumbleOn (NASDAQ: RMBL), the only 100-percent-online powersports marketplace, today announced a significant milestone, having reached 100,000 cash offers by Sept. 30, 2018, to customers seeking to sell their pre-owned vehicle. To celebrate, RumbleOn has awarded a $10,000 cash prize to the 100,000th customer to receive a cash offer.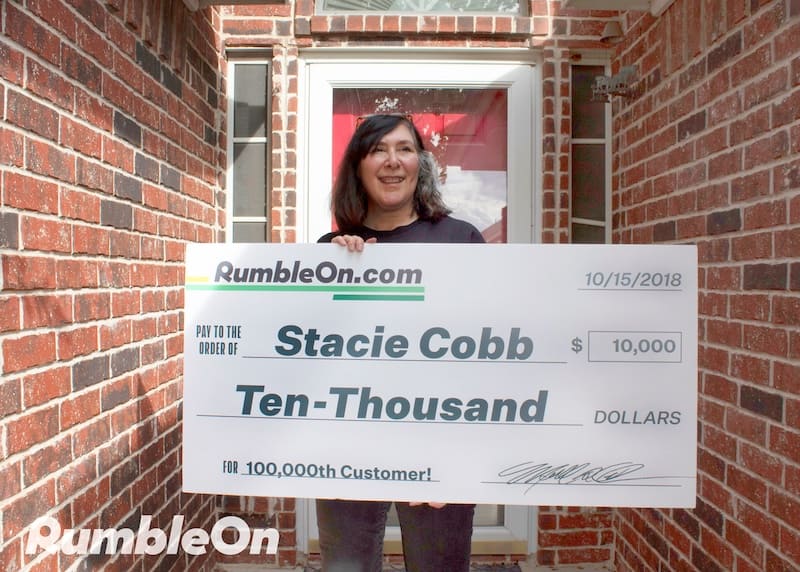 RumbleOn's cash offer method eases the traditional process of selling a powersport vehicle, which is often complex, time-consuming and draining. RumbleOn has minimized the number of required actions by the customer, all while providing complete visibility and transparency throughout the process. Once a cash offer is accepted, RumbleOn handles the logistics with free shipping. Buyers can then access certified vehicles on RumbleOn.com with free delivery, easy financing, and without dealer fees.

"The tremendous growth we have seen with our 100-percent-online cash offer process validates the company's vision of creating easy liquidity where liquidity does not exist. What consumers really want is an experience that removes risk, emphasizes efficiency and fosters trust between the buyer and seller. We are thrilled that the consumer acceptance of our cash offer process has reached this huge milestone in such a short time and way ahead of plan. Congrats to the lucky winner of the additional $10,000 award," said Marshall Chesrown, CEO of RumbleOn.
"When I found out that I had won, it seemed way too good to be true," said Stacie Cobb, winner of the 100,000th cash offer prize. "I went in thinking I would be able to make some quick cash selling my bike online, but RumbleOn was generous enough to surprise me with an incredible gift for being the 100,000th cash offer they've made through the platform. I couldn't be more thankful."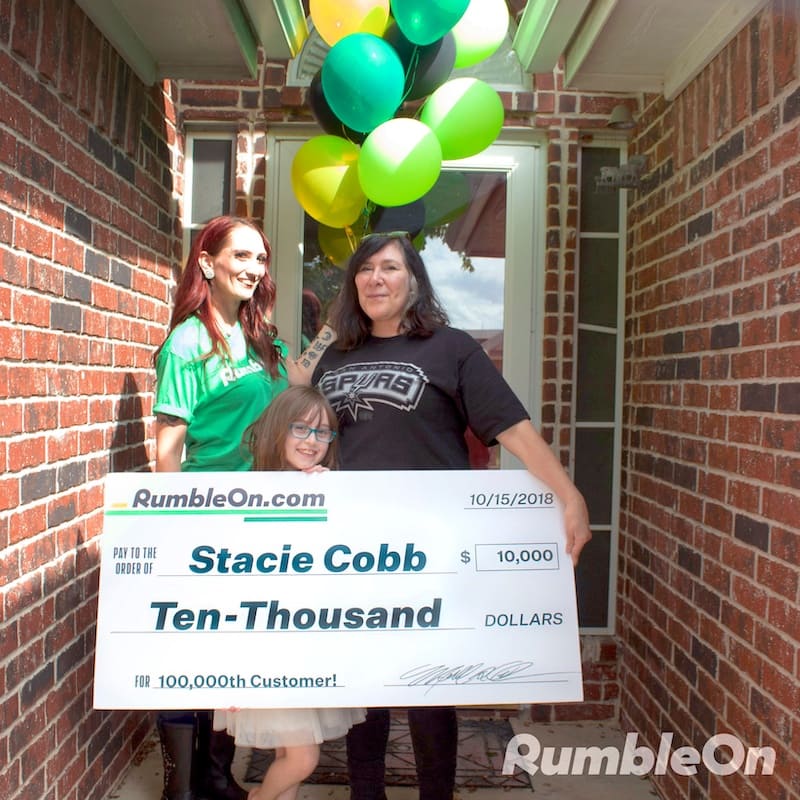 To learn more about receiving a free cash offer from RumbleOn, customers can upload information and photos of their vehicle using RumbleOn.com or free smartphone app for iOS and Android.
---
Need the best place to sell a motorcycle?
RumbleOn is THE easiest and best place to sell a motorcycle online for free. Better yet, you're able to sell motorcycle for cash on the spot. It's all online, all fast, and all free! Get a cash offer for your bike, and we'll come pick up and ship your motorcycle at no cost to you!
Buy or trade a motorcycle online and get it shipped for free with RumbleOn!
If you are ready for a newer, hotter motorcycle, or want to shop our inventory of used motorcycles for sale online, RumbleOn has you covered with bikes at great prices. All bikes are shipped for FREE and come with a Money Back Guarantee! Better yet, RumbleOn welcomes trades! Start with a free cash offer for your bike online and use it as a trade-in! You can even trade in a car to buy your first bike! Read more about how to trade a motorcycle online with RumbleOn here.