RumbleOn winner: How being a motorcycle rider gave Stacie Cobb $10,000
Life's adventures are a wonderful thing. However, every so often, life has a way of turning your smooth sailing ride into a roller-coaster. It throws twists, turns, and drops right in front of you. Life rarely offers warning signs. You're thrown for a loop and you just hope, above all else, that you can make it to the end of the ride.
While we'll all have to experience the roller-coaster ride we call life, at one point or another, some people get thrown through triple loops. These are the people that, more often than not, come out a stronger person. That's no exception for Stacie Cobb of Fort Worth, Texas, a fellow motorcycle rider who's experienced her fair share of ups and downs.
It just so happens that RumbleOn came along at right time to give Cobb a stroke of good luck that she deserves.
What was that stroke of "luck" that Cobb was able to experience? It was RumbleOn showing up at her front door with a $10,000 check in their hands. Cobb was the 100,000th RumbleOn customer, and to celebrate, RumbleOn decided to surprise this milestone customer with a $10,000 cash prize.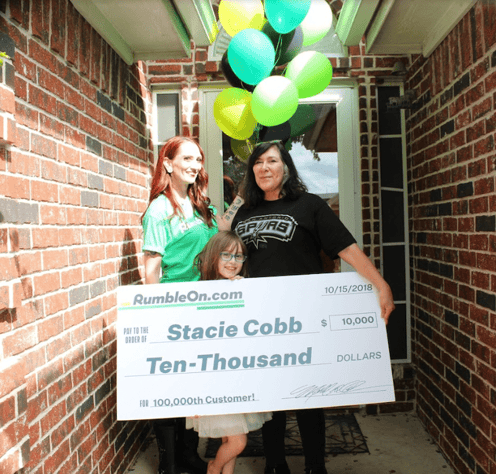 Stacie Cobb is a teacher and educator who has faced harsh times as of late, and she decided it was time to sell her motorcycle. The decision is almost never an easy one to make, especially when you're someone like Cobb that has grown up around motorcycles and adored them her whole life.
"My first experience ever seeing someone on a bike was my dad, and I was five," said Cobb. "He was taking me to the fair. We're walking and he's holding my hand, and there's a line of motorcycles right along the bar. There's this guy sitting on this red, beautiful bike and he looked like Santa Claus. That guy winked at me, and that was it. Biker tendencies from that point on."
It didn't take her long to get the itch to ride, and it was an experience that both she and her husband greatly enjoyed. The freedom of the road is an experience like nothing else out there, and Cobb enjoyed sitting behind her husband as his riding partner on many adventures.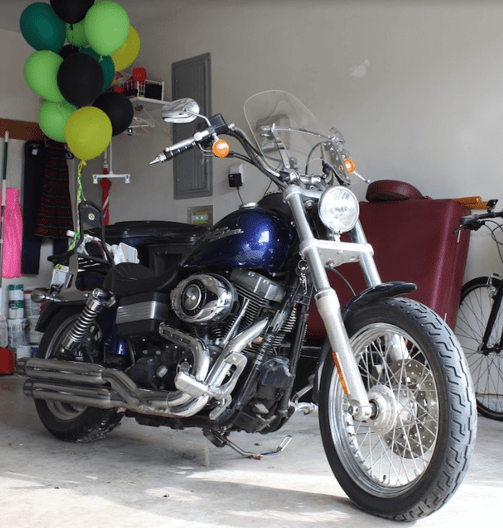 Unfortunately, Cobb experienced life's unexpected roller coaster when her husband passed away. And in a time of hardship, Cobb continued to prove her strength as she decided to take matters into her own hands. She wasn't about to give up a passion and love that both she and her Husband enjoyed, but she wouldn't be a back warmer anymore.
"We always rode with a particular club in South Texas. My husband got sick, and then he died," said Cobb. "I didn't really want to ride with anybody else. I didn't want to ride behind anyone anymore. I just decided I was going to learn to ride, and I did and never looked back."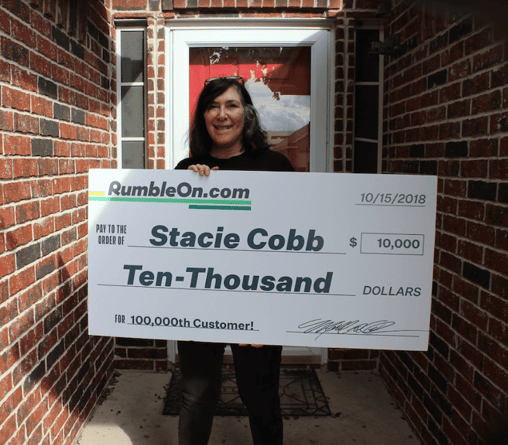 And that's how her own personal story started. Cobb has owned four other motorcycles previously, so she was far from a newcomer to the riding community. Ultimately, due to time restrictions and the struggles life had thrown her way, Cobb had decided to step down from her teaching role and serve as a substitute teacher in the classroom while she cares for her 90-year-old grandmother and 8-year-old granddaughter.
If her passion and love for riding were obvious, then her appreciation and motivation to teach were even more clear. Cobb is an individual that cares greatly about the students she teaches, as they are the future of our society. And being a teacher that also rides means she's able to add a unique touch of personality to the classroom that other educators aren't able to bring to the table.
"I will say that being a rider has definitely helped the cool level," laughed Cobb. "Especially when other teachers find out you ride, all of a sudden they see you on your bike, and the next day they get all excited about it. But, ultimately, it makes you more relatable as a human."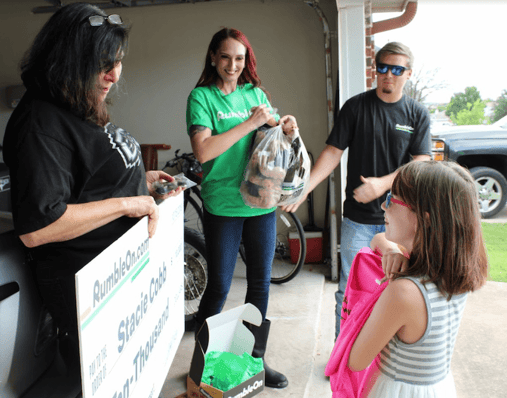 That's something we can easily agree with. Riding gives you a unique experience and sense of peace, and we can only imagine that would be a beneficial quality to have during life's stressful moments.
"Riding gives an inner peace to a lot of people," said Cobb. "Some people never get it, because they just want to ride to look cool. For most of us, it's just something inside that makes you feel better about yourself. It's a peace. It's all the clarity you feel."
Emotions were high when the $10,000 check was presented to Cobb. When she accepted the RumbleOn Cash Offer for her motorcycle, she had no clue she was being entered in to win a contest. She did not know that being our 100,000th customer meant $10,000 was headed her way.
"I was just thinking, sure, yeah, cool, that's awesome," Cobb said sarcastically when asked what she thought about the surprise. "But then the more I thought about it, I looked you up and asked if this could really be real. In life, you usually set yourself up for disappointment. It's all surreal. It just doesn't seem real. It's going to take a while to believe it."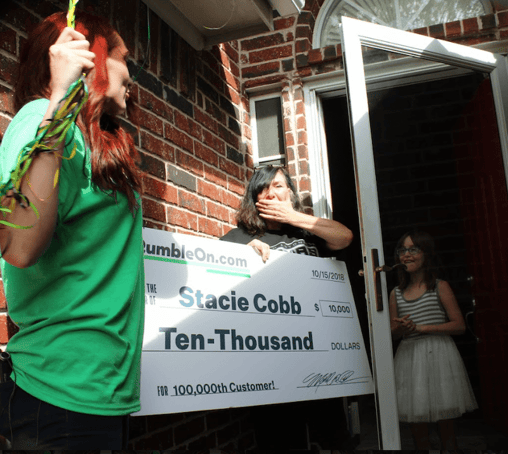 Cobb is one who is very supportive of the motorcycle culture, as she's involved in it. She knows how unique the friendships, and how special the memories, are when you ride. She explained further when asked what her favorite part about the culture was.
"It's making friends. I mean, all the people you get to meet, and no one is a stranger," said Cobb. "It doesn't matter what you ride. You're swarmed with all these people. Brotherhood and sisterhood are very important."
But Cobb has no intentions of leaving her riding life, especially since it's such a huge part of who she is. It's helped her in times of grief when it feels like life just keeps knocking you down. It's given her that inner peace to trust that things will be okay, and to have trust and faith that things will work out, in the end. But as for that day where she'll go when she might want to buy a new bike?
"RumbleOn," laughed Cobb. "Hands down, period. Just getting to talk to you guys here, I trust you. If you're willing to do so much for my bike, I trust you. Why wouldn't I buy from you? I appreciate you all. You all are awesome!"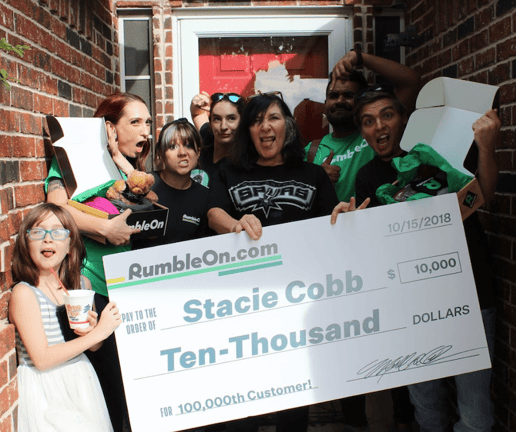 Hey, we'll take the kind words. But let's be honest, it's all about helping the motorcycle community and those who really need it. Stacie Cobb is a woman with drive and a passion for teaching. She worries very much about everyone around her and very little about herself. This prize could not have ended up in better hands, and we're excited about what these winnings are able to help her achieve. Whether that's school supplies for the classrooms where she teaches, a gift for her spunky and fun granddaughter, or a new bike to call her own, the sky is the limit and she deserves every positive thing that comes her way.
She's a part of the motorcycle culture and community, and it's people like her who really showcase what the community is all about. Passion, drive, friendship, and a thirst for freedom.
---
Sell or trade a vehicle online, and have a motorcycle shipped for free!
RumbleOn welcomes trades of all kinds! Get a cash offer for your bike or other vehicles online, then use your trade in value toward the purchase of your new bike or other powersport vehicle! All RumbleOn motorcycles and powersports for sale are shipped for FREE to your door, as-promised or your money back, and with a 90-Day Guarantee! Read more about online motorcycle trades here.
Need the best place to sell a motorcycle?
RumbleOn is THE easiest and best place to sell a motorcycle online for free. Better yet, you're able to sell motorcycle for cash on the spot. It's all online, all fast, and all free! Get a cash offer for your bike, and we'll come pick up and ship your motorcycle at no cost to you!