Pros and Cons of the Harley-Davidson Forty-Eight
Since Harley's 2010 model year, the XL1200X, otherwise known as the "Forty-Eight", has graced the streets and the urban grid with the iconic lineage of the Ironhead and Model K from days gone by. With a fat front wheel and a 1200 cc air-cooled evolution engine, the machine has delivered low-end torque, personality, and a rumble that undeniably echoes all-things Harley.

The Forty-Eight was designed similarly to the "Dark" Nightster XL Sportster style but is complete with a classic-style 1948 style small peanut tank, forward controls, a wider front tire, and chopped front fender. The low suspension and fat front end of the Forty-Eight promises a low and slow ride that is smooth and solid, but what are the pros and cons of the Harley-Davidson Sportster Forty-Eight?

What would you add to these pros and cons? Leave a comment and weigh in!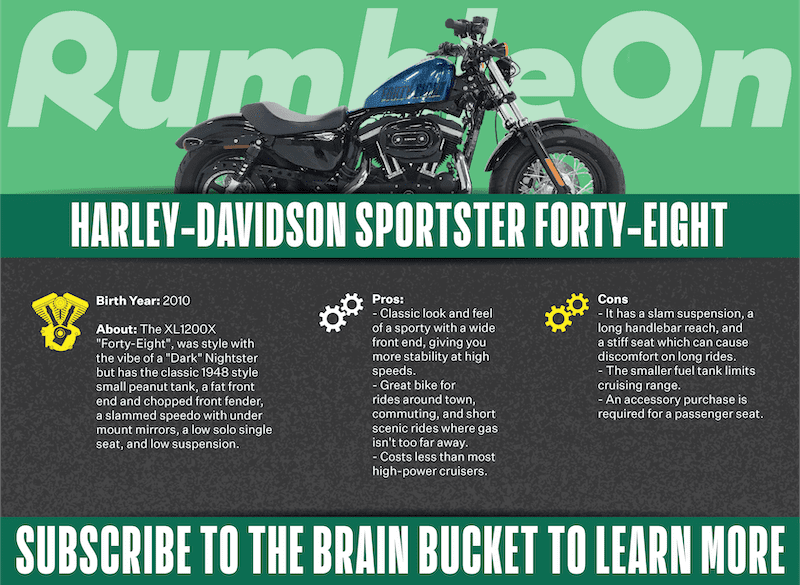 ---
What's the best place to sell my motorcycle online?
Tired of looking for the best, hassle-free way to sell a motorcycle fast? Well, look no further. RumbleOn is THE easiest and best place to sell a motorcycle online for free. Better yet, you're able to sell motorcycle for cash on the spot. It's all online, all fast, and all free! Get a cash offer for your bike, and we'll come pick up and ship your motorcycle at no cost to you!
Trade or buy a motorcycle online, and have it shipped for free!
RumbleOn welcomes trades of all kinds, but we also have a full inventory of Certified RumbleOn powersports and motorcycles for sale at great prices. If you want to trade in your current ride for an upgrade, then just submit your motorcycle, ATV, dirt bike, or any other powersport vehicle for a free cash offer, and you can have a new Certified used motorcycle shipped for free with no hassle! All RumbleOn powersports and used motorcycles for sale are shipped for FREE to your door, as-promised or your money back, and with a 90-Day Rideability Guarantee! Read more about online motorcycle trades here!