All About Indian: Highlights of the Scout Motorcycle
It wouldn't be surprising if the first bike to pop into your head when I say Indian Motorcycle is the Scout. Perhaps, if not the Scout, then maybe the Indian Chief Motorcycle, but we aren't talking about that particular bike today. The Scout is where it's at.
The History of Indian Motorcycles tells us that the Indian Scout motorcycle has been around since the roaring 20's and its popularity is still going strong. Since the 20's there have been several different styles of Scout motorcycle, the 101, the bobber, and the Sixity to name a few. Its many renditions have captured the hearts of new Indian motorcycle fans and made a special place with fans of the O.G. brand. In fact, the Scout's 2019 model is something to be marveled at. It has all the beauty of the classic Indian Motorcycle design with the amenities and power of a modern Indian bike. But don't let me drone on for too long, just check out the infographic that sums up all the highlights of the Indian Scout Motorcycle, and what you can find on today's models!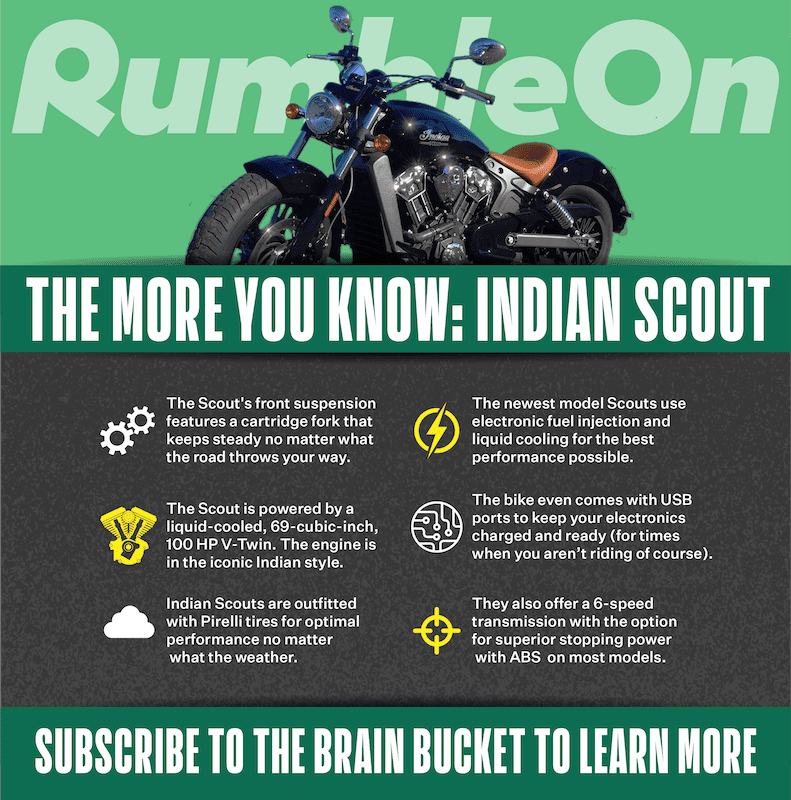 What's your opinion on the Scout? Don't forget to let us know in the comments!
---
Buy or trade a motorcycle online and get it shipped for free with RumbleOn!
RumbleOn welcomes trades of all kinds! Get a cash offer for vehicle online, then use your trade-in value toward the purchase of your new bike, scooter, or other powersport vehicle! All RumbleOn motorcycles and powersports for sale are shipped for FREE to your door, as-promised or your money back, and with a 90-Day Guarantee! Trade in cars, trucks, and more for your new two-wheeled ride! Read more about online motorcycle trades here.
Need the best place to sell a motorcycle?